Round 1
EWaiver – This single event waiver is for adults and minors that do not hold a Series Package or Annual Pass.
Host Hotel – Best Western next to track starting at $119/night, owner has guaranteed rate can be cancelled, contact hotel directly with any questions
Marriott Kingwood – Another hotel option starting at $109/night.
Final Pit Map – All Pit requests can be completed in regististraion, Completed Pit map will be posted March 23 at noon.
We are also asking for those of you not pitting out of your RVs to please book a space with hookups at the RV park next door, http://grandtxrv.com/ . Pit Spaces will be available through registration once open. If you have a team request please email info@texassprintseries.com to get added or reserve without selecting class options on motorsportreg.com in event registration.
Photography will be provided by the great Ken Johnson with Studio 52.
---
Passenger vehicles will follow map below for all parking. No tow vehicles will be allowed in pits during the event beginning Friday Morning.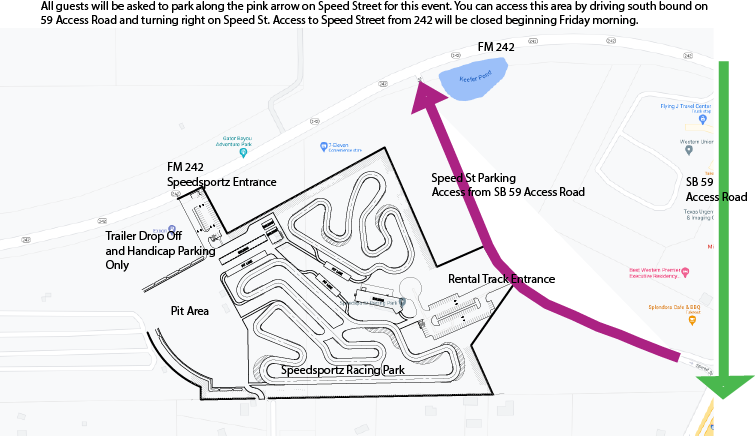 March 23 – Pit Move In
March 24 – Pit Move In / Practice Day
March 24 – 26 – Race!

---
General Schedule and Info
*SUBJECT TO CHANGE
Thursday – Move-In – March 23rd
Gates Open: 1:00 pm
General Pit Parking: 1:00 pm – 7:00 pm, Starting with big rigs and motorhomes
Pit Curfew: 8:00 pm



Friday – Move-In/Practice – March 24th
Gates Open: 7:00 am, no passenger vehicles in pits without parking pass
General Pit Parking: 8:00 am – 8:00 pm
TSRS Registration Open: 2:00 – 6:00 pm
Tire/Fuel Desks Open: 8:00 am – 6:00 pm
Unofficial Practice Run by Speedsportz: 9am-6pm
Pit Curfew: 11:00 pm

Saturday – Check-In/Official Event Day – March 25th
Gates Open: Starts at 7:00 am, no passenger vehicle in pits without parking pass-Those with pass must be inside gate before 7:30am
Registration Open – 7:00 am – Track Cold
Tire/Fuel Desks Open: 7:00 am – 8:00 am (NOTE: Pickup ALL Tires/Fuel Prior to start of Practice)
Track Hot: 8:00 am – 6:00 pm (See Printable Schedule above)
Pit Curfew: 10:00 pm

Sunday – Official Event Day – March 26th
Gates Open: 7:00 am, no passenger vehicle in pits without parking pass-Those with pass must be inside gate before 7:30am
Registration Open: 7:00 am – Track Cold
Track Hot: 8:00 am-5:00 pm (See Printable Schedule above)
Event Podiums: All Classes immediately following tech clearance for final class
MOVE OUT BEGINS AFTER FINAL RACE/PODIUM
Pit Curfew: 10:00 pm, Trailers may be left overnight and picked up Monday Morning by 10am if needed

---
Track Maps