Anyone on Speedesportz Premise will need to have waiver completed prior to check in for TSRS. For drivers please be sure to register prior to completion of waiver. ALL waivers will be completed electronically for this event. Please use the same name on waiver and registration. Complete prior to arriving at event for fastest checkin. Speedsportz may ask drivers to sign addition waiver for all on site for Friday Practice. See below for where to select when completing minor waiver. If the same number is used for both minor and guardian(s) you will need to use all links send via text to fully complete (at least 2).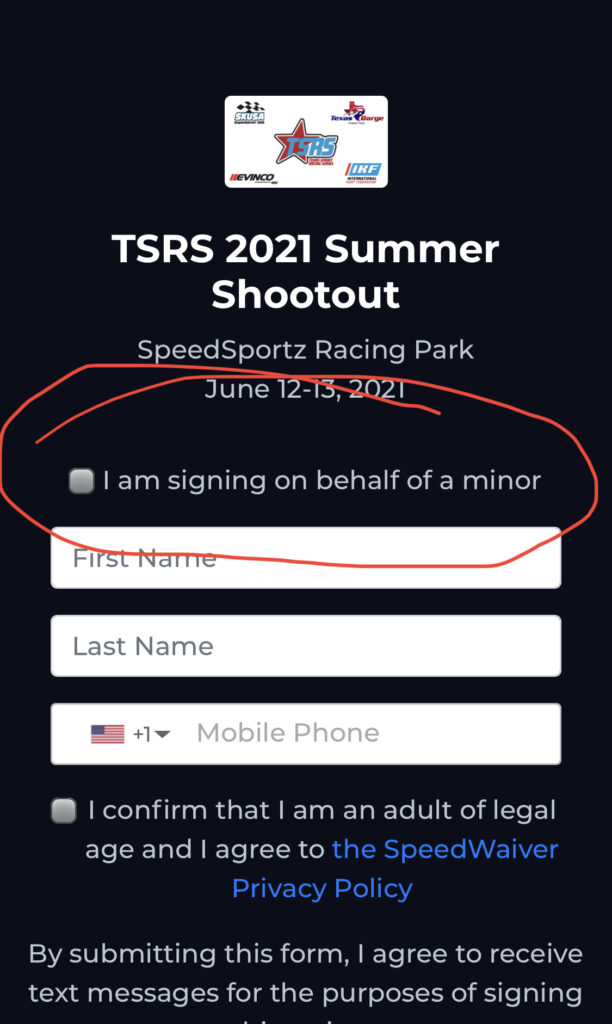 Email pit spot reservation requests to info@texassprintseries.com. Pit spot map available above. Please email all requests by ASAP. Please state if you are a sponsor for Priority Parking. If you are interested in becoming a sponsor please let us know. There are varying lengths of spaces for this event. Please designate the minimum length of space you will need (20-50ft) and if you are actually pitting out of your trailer or with a team and just need trailer storage. Please note that 30ft spaces do not have back access. We are also asking for those of you not pitting out of your RVs to please book a space with hookups at the RV park next door, http://grandtxrv.com/
The pit map is subject to change. Check back here for the latest updates before parking if you are arriving after hours. The track pit will have after hours access Wednesday and Thursday for those needing it. If you are planning to park and RV or large rig plan to arrive by Wednesday July 21 to be sure you can park in your requested space.
Photography will be provided by the great Ken Johnson with Studio 52.
---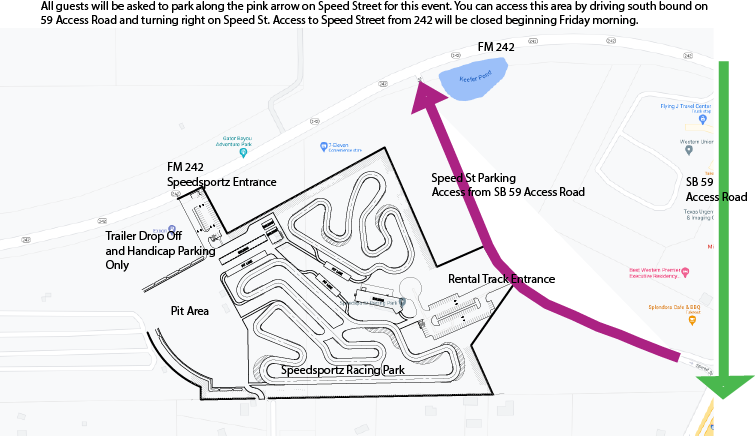 July 21 – Pit Move In
July 22 – Pit Move In / Practice Day (run by Speedsportz)
July 23 – 24 – Night Race!

---
General Schedule and Info
*SUBJECT TO CHANGE
Wednesday – Move-In – July 21st
Gates Open: 1:00 pm
General Pit Parking: 1:00 pm – 7:00 pm, Starting with big rigs and motorhomes
Pit Curfew: 8:00 pm



Thursday – Move-In/Practice – July 22nd
Gates Open: 12:00 pm, no passenger vehicles in pits without parking pass
General Pit Parking: 12:00 pm – 8:00 pm
Registration Open: 4:00 – 7:00 pm
Tire/Fuel Desks Open: 4:00 pm – 7:00 pm
Unofficial Practice 3pm-10pm (Defined Schedule to be posted by Speedsportz)
Pit Curfew: 11:00 pm

Friday – Check-In/Official Event Day – July 23rd
Gates Open: Starts at 12:00 pm, no passenger vehicle in pits without parking pass-must be inside gate before 1pm
Registration Open – 12:00 pm – 9:00 pm
Tire/Fuel Desks Open: 1:00 pm – 7:00 pm (NOTE: Pickup ALL Tires)
Track Hot: 2:00 pm – 11:00 pm (See Printable Schedule above)
Pit Curfew: 12:00 am

Saturday – Official Event Day – July 24th
Gates Open: 12:00 pm, no passenger vehicle in pits without parking pass-must be inside gate before 1pm
Registration Open: 12:00 pm – 9:00 pm
Track Hot: 2:00 pm-11:00 pm (See Printable Schedule above)
Event Podiums: Immediately following tech clearance for final class
MOVE OUT BEGINS AFTER FINAL RACE/PODIUM
Pit Curfew: 12:00 am Saturday, additional time to move out Sunday

---
Track Maps