All pit requests for this event will be handled through SKUSA, please follow the link above for all required information. Some information will not apply to you if you are only staying for TSRS, but all the information on how to submit a request is included. If you are staying through please be sure to note this as well as if your space need will change for each event as pricing is different. Anyone trying to pit together will need to send in one request as a group, any sent separately will be harder to accommodate. The pit map and schedule is subject to change at any time. Check back here for the latest updates before parking, if you are arriving after hours please let us know so we can make arrangements. The track may have after hours access Thursday and Friday for those needing it.
Cost for Pit spaces for this event are as follows:
$25 per space*
Each driver pitted alone will be eligible for 1 space at no cost
Each Team with 2 or more drivers will be eligible for 2 spaces at no cost
Each Sponsor will be eligible for up to 4 spaces at no cost
RV spaces in the back of the paddock will count as 2 spaces.
Any RV space reservations, with hook-ups not in the main paddock, can be made at https://www.nolamotor.com/rentals or by emailing a.hebert@nolamotor.com
Team catering is available through the track by contacting Ron at ron@tasteamaze.net
---
March 18, 2021 – Pit Move In
March 19, 2021 – TSRS-run Practice Day
March 20 – 21, 2021 – Race!

---
General Schedule and Info
Thursday – Move-In/Early Bird Check-in – March 18th
Gates Open: 8:00 am
General Pit Parking: 8:00 am – 6:00 pm, Starting with big rigs
Early Bird check-in: 3:00 pm – 6:00 pm
Pit Curfew: 6:30 pm
Gates Locked: 7:00 pm

Track Closed, Concession Karts ONLY (if available)
Friday – Move-In/Practice – March 19th
Gates Open: 7:00 am
General Pit Parking: 7:00 am – 6:00 pm
Registration Open: 7:30 am – 6:00 pm
Tire/Fuel Desks Open: 7:30 am – 6:00 pm (NOTE: Pickup of Team/Practice/Rain/Race Tires)

Unofficial Practice 8am-6pm (Defined Schedule to be posted)

Pit Curfew: 6:30 pm
Gates Locked: 7:00 pm
Saturday – Check-In/Official Event Day – March 20th
Gates Open: Starts at 7:00 am
Registration Open – 7:30 am – 6 pm
Tire/Fuel Desks Open: 7:30 am – 2 pm (NOTE: Pickup ALL Tires)

Track Hot: 8:00 am – 6:00 pm (Defined Schedule to be posted)

Pit Curfew: 8:00 pm
Gates Locked: 10:00 pm
Sunday – Official Event Day – March 21th
Gates Open: 7:00 am
Registration Open: 7:30 am – 5:00 pm

Track Hot: 8:00 am-6:00 pm (Defined Schedule to be posted)
MOVE OUT BEGINS AFTER FINAL RACE/PODIUM
Pit Curfew: 8:00 pm
Gates Locked: 10:00 pm
NOTE: ANY TEAMS / TRAILERS Not staying for the Winter Nationals must complete move out by
Noon, Monday March 22th
---
Track Maps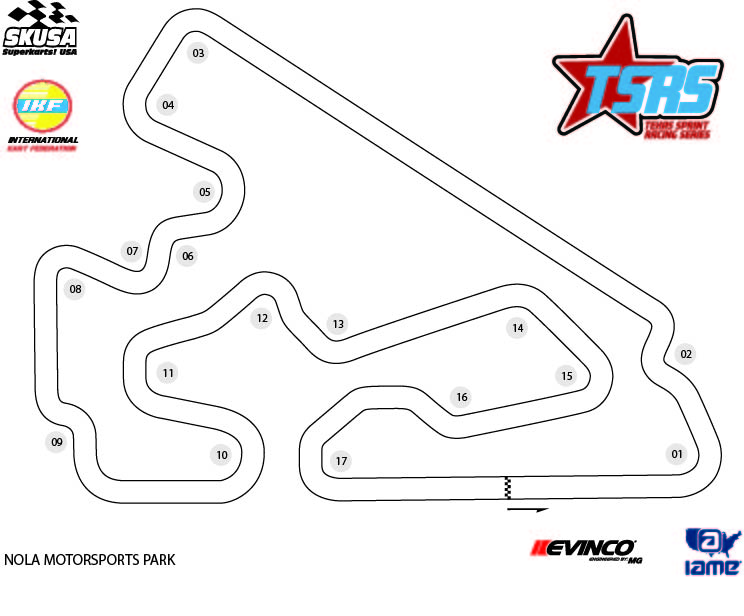 ---