Anyone on Amarillo Kart Circuit Premise will need to have waiver completed prior to check in for TSRS. For drivers please be sure to register prior to completion of waiver. ALL waivers will be completed electronically for this event. Please use the same name on waiver and registration. Complete prior to arriving at event for fastest checkin. See below on where to be sure to check for all minor waivers to ensure they are completed correctly. You will need to click on all links sent to each number (typically 2) in order to fully complete waiver.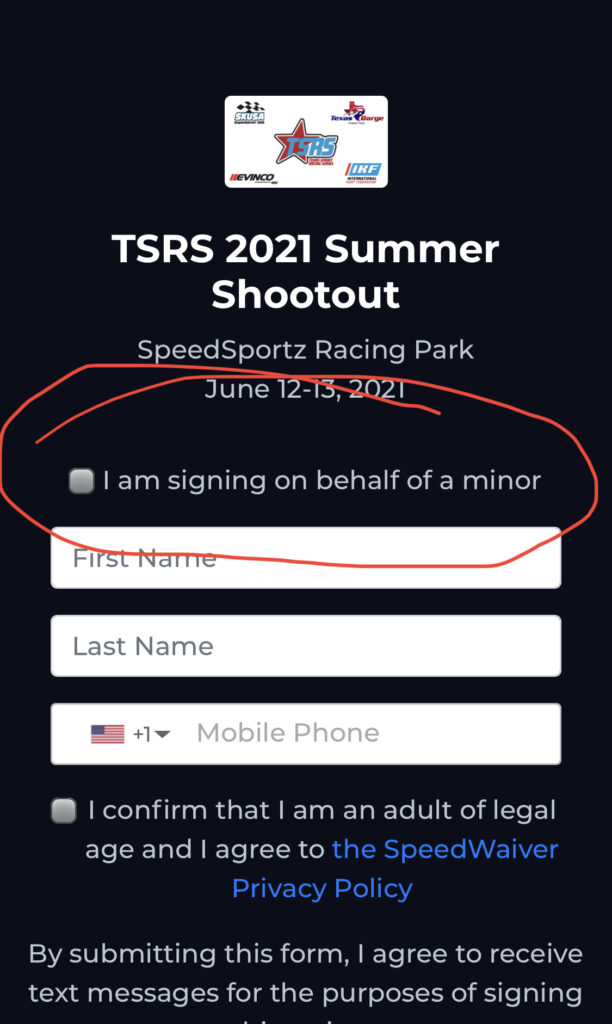 Email pit spot reservation requests to info@texassprintseries.com. Pit spot map available above. Please email all requests by ASAP. Please state if you are a sponsor for Priority Parking. If you are interested in becoming a sponsor please let us know. Please let me know if you will need RV space in addition to pit space as all RV will be parked separate from pits.
The pit map is subject to change. Check back here for the latest updates before parking if you are arriving after hours. The track pit will have after hours access Thursday and Friday for those needing it. If you are planning to park and RV or large rig plan to arrive by Wednesday September 15 to be sure you can park in your requested space.
Photography will be provided by the great Ken Johnson with Studio 52.
---
September 15 – Pit Move In
September 16-17 – Pit Move In / Practice Days (run by TSRS)
September 18 – 19 – Race!
---
General Schedule and Info
Wednesday – Move-In – September 15th
Gates Open: 10:00 am
General Pit Parking: 10:00 am – 6:00 pm, Starting with big rigs and motorhomes
Pit Curfew: 8:00 pm
Thursday – Move-In/Practice – September 16th
Gates Open: 8:00 am
General Pit Parking: 8:00 am – 6:00 pm
Registration Open: 9:00 – 5:00 pm
Tire/Fuel Desks Open: 9:00 pm – 5:00 pm
Unofficial Practice 10am-6pm (Defined Schedule to be posted)
Pit Curfew: 8:00 pm

Friday – Move-In/Practice – September 17th
Gates Open: 8:00 am
General Pit Parking: 8:00 am – 6:00 pm
Registration Open: 9:00 – 5:00 pm
Tire/Fuel Desks Open: 9:00 pm – 5:00 pm
Unofficial Practice 10am-6pm (Defined Schedule to be posted)
Pit Curfew: 8:00 pm

Saturday – Check-In/Official Event Day/End of the Year Banquet– September 18th
Gates Open: Starts at 7:00 am
Registration Open – 7:30 am – 5:00 pm
Tire/Fuel Desks Open: 7:30 am – 12:00 pm (NOTE: Pickup ALL Tires)
Track Hot: 8:00 am – 6:00 pm (See Printable Schedule above)
Banquet Dinner: 6:30pm Served in the Scale House, bring your chairs up for the raffle.
Pit Curfew: 9:00 pm

Sunday – Official Event Day – September 19th
Gates Open: 7:00 am
Registration Open: 7:30 am – 5:00 pm
Track Hot: 8:00 am-6:00 pm (See Printable Schedule above)
Event Podiums: Immediately following tech clearance for final class
MOVE OUT BEGINS AFTER FINAL RACE/PODIUM
Pit Curfew: 8:00 pm
Gates Locked: 9:00 pm
---
Track Maps